Board of Directors
Governance
Tioga Opportunities, Inc. is governed by a Board of Directors that must be made up of at least one-third representatives of the target/low-income sector, one-third elected public officials, and the remaining members are representative of the private sector.
Board of Directors
2022 Meeting Schedule
Board of Directors
Board of Directors
Randal Kerr, Vice President
James Tornatore, Treasurer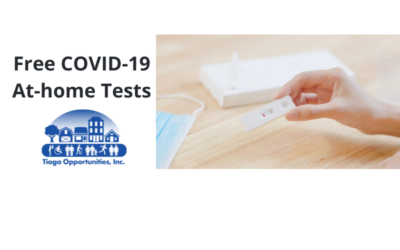 The U.S. Postal Service has begun taking orders for free at-home coronavirus test kits. Every home in the U.S. is eligible to order four free at-⁠home COVID-⁠19 tests. The tests are completely free and orders will usually ship in 7-12 days.You can place your order by...
read more