At Tioga Opportunities, Inc., there are many volunteer opportunities, including transporting older adults and adults with disabilities to medical and non-medical appointments, providing meals for homebound individuals, providing telephone reassurance, art/craft activities, computer work, exercise activities, health insurance counseling, food programs/pantries, musical entertainment, Group Workcamp, meal/snack preparation, and assisting with health screenings.
Countryside Community Center
9 Sheldon Guile Blvd.
Owego, NY 13827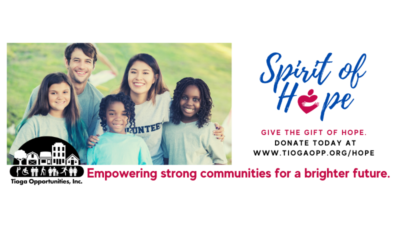 Tioga Opportunities, Inc.'s annual year-end fundraising campaign, Spirit of Hope, will kick off on November 15th, 2021, in an effort to further the organization's mission to strengthen communities while empowering individuals and families to achieve independence and...
read more