Keep up to date with upcoming events, community resources, health education, and much more!
Direct mail and email subscriptions are available for a suggested annual contribution of $10.00.  No one will be denied a newsletter due to an inability or unwillingness to contribute. 
You can find our subscription information in the current issue of The Senior Scoop below.
*No restrictions
*Targeted towards ages 60+
Countryside Community Center
9 Sheldon Guile Blvd.
Owego, NY 13827
Phone: 607-687-4222 or 607-687-4120
Hours: Monday – Friday: 8:30 AM – 4:30PM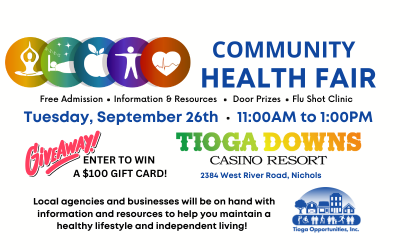 Tioga Opportunities, Inc. invites the community to its annual Community Health Fair on Tuesday, September 26th from 11:00am to 1:00pm at Tioga Downs Casino Resort, 2384 West River Road, Nichols. A wide range of local service providers, agencies, and businesses will be...
read more