Are you a caregiver of an older adult? Would you like a break to run errands, go to appointments, or have some time for yourself?
Respite Services provides provides short term, in-home respite for caregivers of seniors, age 60+ who cannot be left home alone due to illness or disability.
*Tioga County Resident
*Age 60+
*ANY AGE with Alzheimer's disease and related disorders
*Who requires substantial supervision due to cognitive or mental impairment or behavior that poses a serious health or safety hazard to the individual or others
Countryside Community Center
9 Sheldon Guile Blvd.
Owego, NY 13827
Phone: 607-687-4222 or 607-687-4120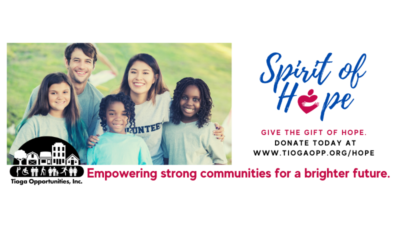 Tioga Opportunities, Inc.'s annual year-end fundraising campaign, Spirit of Hope, will kick off on November 15th, 2021, in an effort to further the organization's mission to strengthen communities while empowering individuals and families to achieve independence and...
read more