Christina Brown
Director of Management and Administration
Amy Foster
Director of Human Resources
Christine Shaver
Director of Program Operations
Jim Wiser
Director of Energy Services
Sara Zubalsky-Peer
Director of Planning and Development
Tioga Opportunities, Inc.
Departments
Community Development
The Department of Community Development:
Helps people of all ages learn about using viable transportation options to improve their mobility and seek employment 
Assists older adults and individuals with disabilities maintain independence with access to available transportation options 
Helps individuals and families gain assets and move towards self-sufficiency by building credit with a loan for the purchase of home appliances 
Works at developing community-wide initiatives that will improve the overall quality of life for all Tioga County residents.
Energy Services
The Department of Energy Services strives to:
Lower a household's energy burden by reducing the percentage of annual income spent on fuel and electricity through energy efficiencies
Enhance the health and safety of a household by improving indoor air quality and providing protection from fire and carbon monoxide
Manage the risk of high radon levels through testing and mitigation.
Family Services
The Department of Family Services strives to:
Improve the physical and nutritional health and well-being of babies, youth, families, and older adults 
Help older adults remain independent in the community for as long as possible
Provide a range of opportunities for socialization
Educate the community about long term services and supports, health insurance options, healthy lifestyles, breastfeeding, and community resources 
Enhance the financial well-being of our customers.
Housing Services
The Department of Housing Services helps Tioga County residents obtain and maintain safe, affordable housing with:
• Apartments that are owned and managed by TOI
• Homeowner housing rehabilitation assistance
• Section 8 rental subsidies
Homeownership is encouraged in discussions with customers about their relationship with money, credit and debt basics, personal spending, planned savings, investing, and asset acquisition.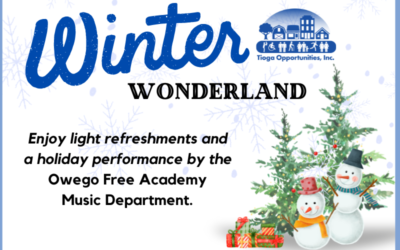 It's the most wonderful time of the year!  Come join in the festivities on Tuesday, December 20th from 12:45PM to 2:00 PM at the Countryside Community Center, 9 Sheldon Guile Blvd, Owego, when Tioga Opportunities, Inc. offers a "Winter Wonderland" social hour to the...
read more