Through support groups and educational workshops, caregivers are provided with tools to take care of themselves and their loved ones.
*Caregivers of individuals of any age
Countryside Community Center
9 Sheldon Guile Blvd.
Owego, NY 13827
Phone: 607-687-4222 or 607-687-4120
Hours: Monday – Friday: 8:30 AM – 4:30PM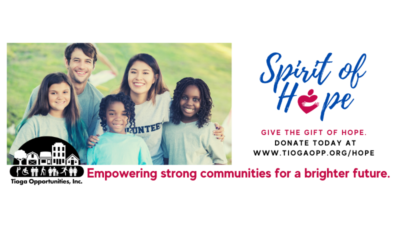 Tioga Opportunities, Inc.'s annual year-end fundraising campaign, Spirit of Hope, will kick off on November 15th, 2021, in an effort to further the organization's mission to strengthen communities while empowering individuals and families to achieve independence and...
read more