Tioga Opportunities, Inc.
History
Tioga Opportunities, Inc. is a private, 501(c)(3) not for profit, multi-purpose, inter-generational human service agency which emerged from the Kennedy/Johnson "War on Poverty" programs of the l960's. Incorporated in l965, Federal Community Service Block Grant (CSBG) funds are administered to Tioga Opportunities, Inc. under the jurisdiction of the New York State Department of State Division of Community Services.
As a Community Action Agency, Tioga Opportunities, Inc. is a part of a network of over 1,000 Community Action Agencies across the country and a network of 48 across the state.
Community Action exists to address the causes and conditions of poverty using strategies that respond to the community's unique needs.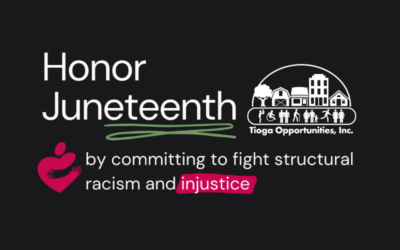 Saturday, June 19th marks Juneteenth—a day to acknowledge + celebrate the freedom of enslaved people in America. Our offices are closed on Friday, June 18th in recognition of this important day and to allow for reflection, education, and understanding. In cities...
read more