Tioga Tells was formed in 2018 after county leadership recognized that existing data did not tell the full story of everyday life for all Tioga County residents. Tioga Opportunities, Inc., The Rural Health Network of SCNY, and Tioga County Public Health formed a partnership to lead a countywide quality of life assessment aimed to bring resident's feedback, concerns, and voices to the table.  The assessment detailed excerpts from Tioga County residents and outlined strengths and challenges perceived to impact residents' quality of life.
Now in its second year, Tioga Tells seeks to use recognized community strengths to address challenges, bridge diverse communities together, and continue to enhance the overall quality of life for residents of Tioga County.   Tioga Opportunities is proud to host Project Lead and AmeriCorps VISTA member Catherine Faruolo to facilitate the implementation of action-steps municipality leaders can take to address concerns brought to light by residents in the year one study.
Tioga Opportunities, Inc. and Tioga Tells recently conducted a county wide survey to learn the extent that COVID-19 has impacted the quality of life within Tioga County and its residents.
To view the results of the COVID-19 Impact Survey Tioga Tells conducted please click the link below:
https://www.surveymonkey.com/stories/SM-KY8KCY7Y/
To view the executive summary of the year one study please visit the link below:
https://rhnscny.org/wp-content/uploads/2019/07/Final-Executive-Summary_Tioga-Tells_2018.2019.pdf
For more information on Tioga Tells you can visit these links below:
https://www.binghamtonhomepage.com/news/tioga-county-releases-the-results-from-a-year-long-study-tioga-tells/
https://wbng.com/2020/08/05/second-tioga-tells-survey-hopes-to-help-county-residents-with-pandemic-recovery/
Countryside Community Center
9 Sheldon Guile Blvd.
Owego, NY 13827
Hours: Monday – Friday: 8:30 AM – 4:30PM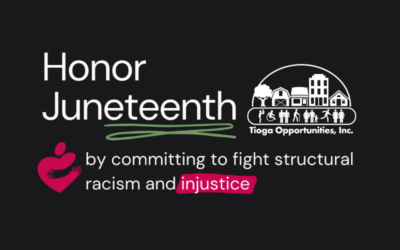 Saturday, June 19th marks Juneteenth—a day to acknowledge + celebrate the freedom of enslaved people in America. Our offices are closed on Friday, June 18th in recognition of this important day and to allow for reflection, education, and understanding. In cities...
read more