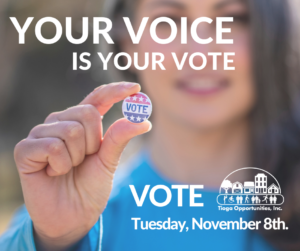 A strong democracy relies on the participation of its people. Everyone deserves to have their voice heard – this means YOU! It's important to know your rights as an in-person voter! Check out these great resources to help you exercise your voting rights, resist voter intimidation efforts, and access disability-related accommodations and language assistance at the polls.

NCAP-Know-Your-Voting-Rights-One-Pager
https://www.aclu.org/know-your-rights/voting-rights
Did you know that TOI is a voter registration site. Our staff is ready to help you register for future elections and help with any voting questions. Call us at 607-687-4120 or email [email protected].